Volkswagen Connect App Tested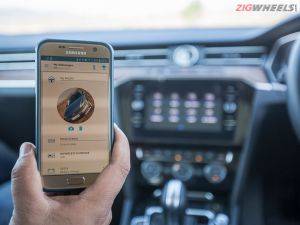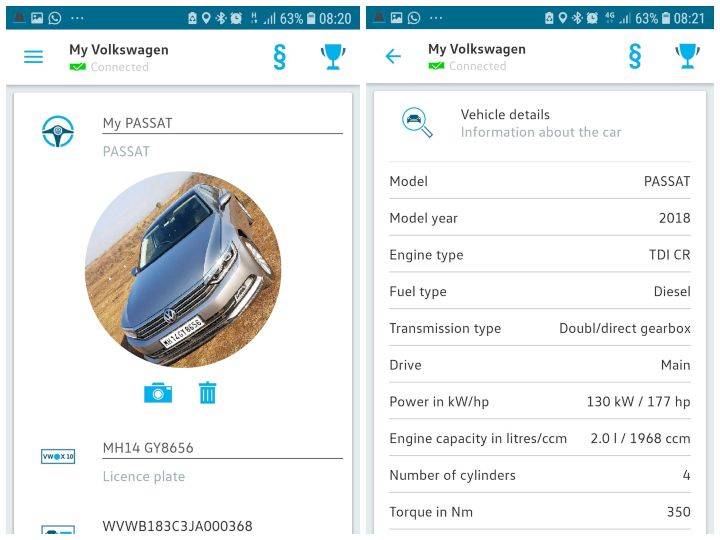 What is Volkswagen Connect?
Like most manufacturers today, has also launched an Android and iOS app that aims to help customers better understand their cars. The Volkswagen Connect app links your phone to the car via a Bluetooth connection with a dongle that plugs into your car's diagnostic port. The diagnostic/OBDII port is present on all modern cars and is usually located in the drivers footwell somewhere near your car's steering column.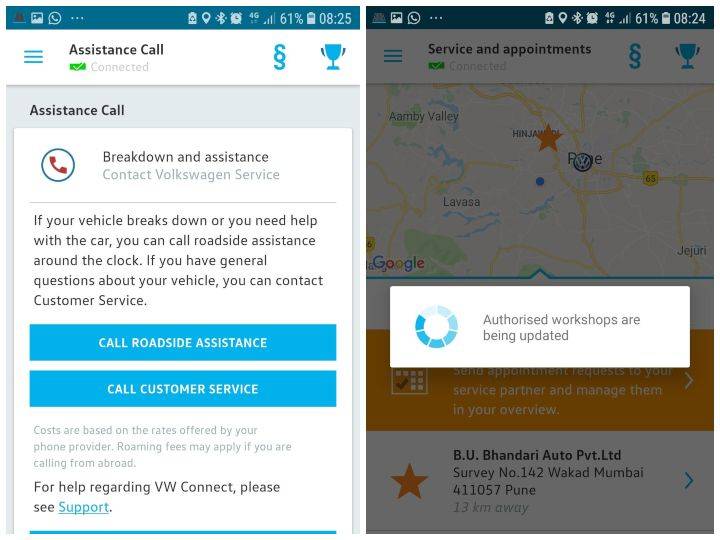 The Promise
Volkswagen Connect allows owners to tap into a whole host of information pertaining to the car's well being. It also tracks your driving routes, can help you set up service appointments and also claims to improve your driving habits. It costs Rs 5,555 for existing customers and can be added on as an accessory to new vehicles at the time of purchase and it's a one time purchase. In comparison, the Suzuki Connect for Nexa cars costs as much as Rs 10,000 for a three year subscription. But the Suzuki Connect is also a more complex system that includes a separate sim card and data connection.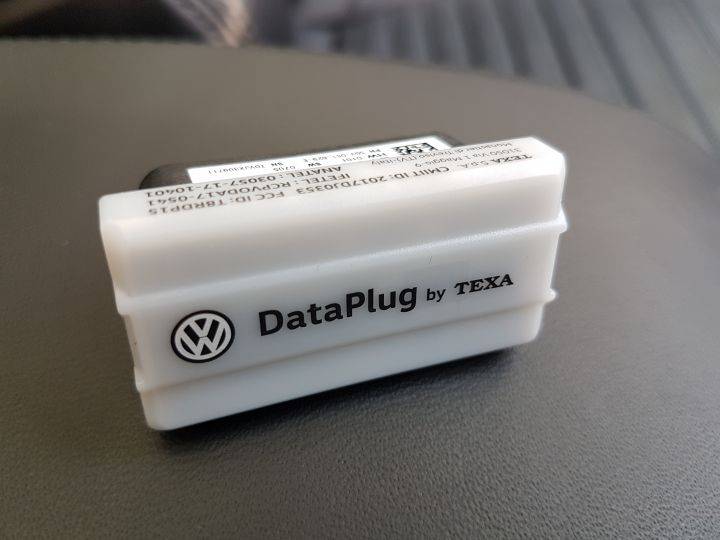 The, though, has a special offer running for the Comfortline - Connect Edition and the Highline - Connect Edition. They are both available for a limited period at a heavy discount of Rs 4 lakh over the regular Comfort and Highline editions with some terms and conditions.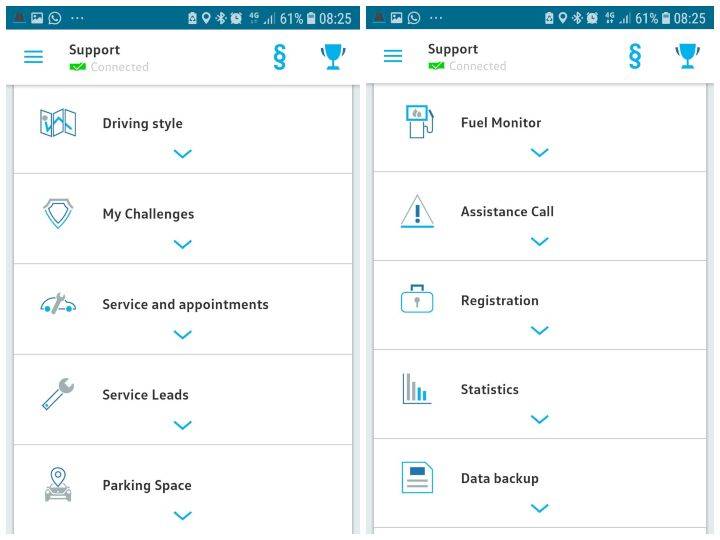 Setting Up
As promised, setting up Volkswagen Connect is a simple affair. First you unbox the dongle that you receive and then download the app on your phone from your respective app store. Once that's done, you search for the device on your phone's Bluetooth menu and connect to it. It worked fine the first time and then auto connected every time we switched the car on and off thereafter. One thing to remember is that the app needs to be running on your phone, at least in the background, for all of the features to work.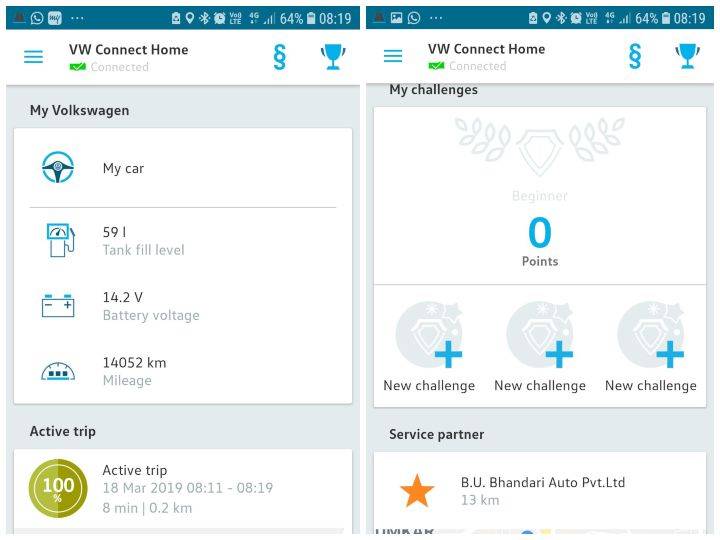 The Experience
Using Volkswagen Connect is a very user friendly process. The set up was really simple and was a one time affair. The only time you would need to delve into the setup again would be when you change phones. On a day to day basis, simply opening up the app and waiting for it to connect to the dongle before setting off was the only thing we needed to remember. This took no more than a minute every day.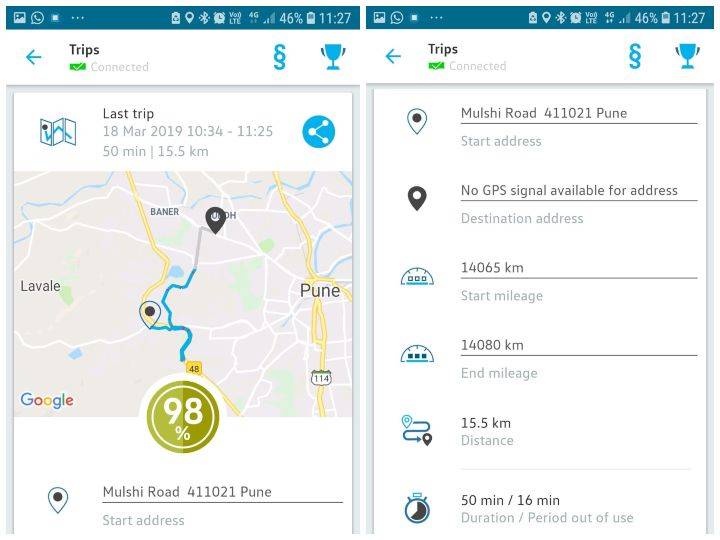 The app automatically stores your trips and will give you details like kilometers travelled, fuel cost, average speed, maximum speed and the duration of the trip. It will also plot the trip on a map, showing the route you took along with stops/delays along the way. It also scores your trip with reference to driving style based on a number of parameters like driving style, time taken and fuel consumed. Trying to better this score by planning better routes with less traffic and being gentle on the throttle is how the app aims to help you improve fuel efficiency and become a more efficient driver.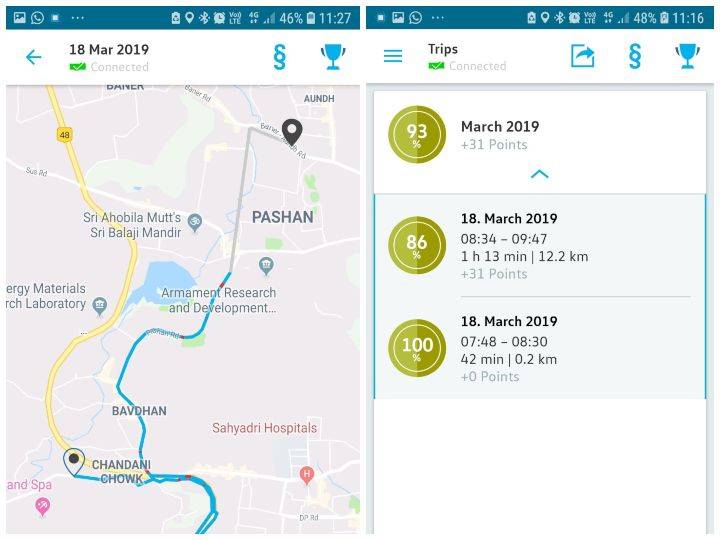 The app also lets you search the current locality for nearby service stations and even call to book an appointment. In case of a breakdown, it can also call roadside assistance and send your car's location to the nearest service centre as well. It also connects to your car's diagnostic systems and will let you know the details of any problems, like low oil levels or busted fuses.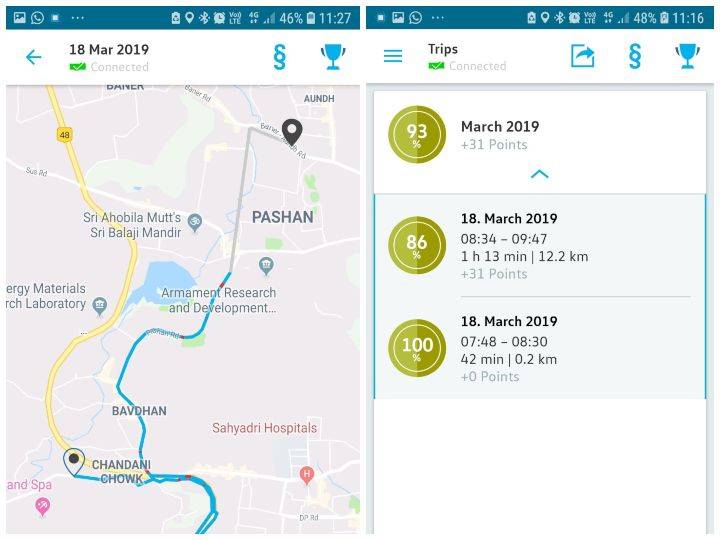 Overall, the app is really comprehensive. It may not feature the best technology like mobile connectivity to allow live tracking, but there still is a lot of depth to the amount of information that can be viewed live, as well as stored and reviewed at a later date. It's well designed and has a pretty comprehensive FAQ section as well to help you out if you get stuck.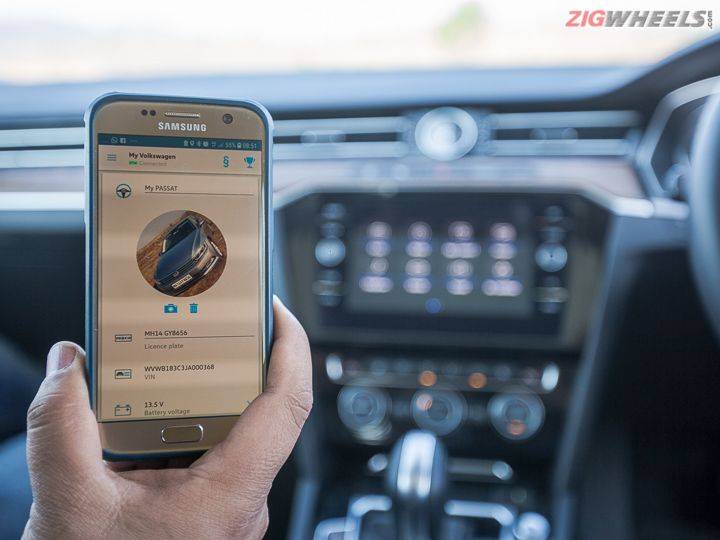 Verdict
So it's easy to install, simple to use and gives you quite a great deal of information at you fingertips. It also allows you to store trip data and analyse how your driving has improved over a period of time. Booking service appointments and requesting assistance in case of an emergency is also made much easier. Sounds like all good news right? Well yes, it's a great system but it's not the greatest out there. There are other connected apps that allow live vehicle tracking, geo fencing and can even monitor your car on its journey through a routine service like the Suzuki Connect, for example. But these connected systems also require more hardware like separate sim cards and data connections and will also cost more. So in weighing the pros against the limits of the system, we have to say that the Volkswagen Connect is definitely worth the investment and certainly improves the ownership experience in a significant way.
from zigwheels
Read The Rest:zigwheels...